FiSonic Adventure Max, a 3D type of Sonic Epic game.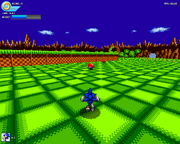 Currently, The current zones are Grassy Roads. Sonic is alone in this game, he runs alone, like Sonic the Hedgehog 1.
The Story
Edit
Sonic was alone strolling on Green Hill Zone, he called Tails if he wanted to come, he said "Too busy, got to upgrade the tornado!" Sonic said "Its fine, I'll be ok!" and he ran and saw Dr. Eggman's badniks! "Those robots are a total pain in the- Eggman!" said Sonic! The search was on!
The zones are based off other zones.
Zones and Compares

| Original Zone | New Zone |
| --- | --- |
| Green Hill Zone | Grassy Roads Zone |
| | |
| | |
| | |
More zone information: Sonic Adventure Max Zones.
Up and Down - Move
Left and Right - Turn
C - Spinjump
X - Spindash
Z - Boost
The engine is "Sonic Simple 3D Engine V1.1" by Nikko the Cat.
Offical Beta Elements
Edit
Red Rings, Boost Moniter.
Ad blocker interference detected!
Wikia is a free-to-use site that makes money from advertising. We have a modified experience for viewers using ad blockers

Wikia is not accessible if you've made further modifications. Remove the custom ad blocker rule(s) and the page will load as expected.